A new campaign begins on 7/16/21.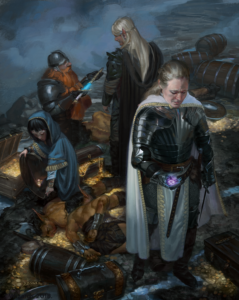 Get ready to venture into the Mythical Age of Ancient Greece. 
Unless there's a holiday, we'll be playing on the second and fourth Friday of each month.
Get here by 2:45 pm, doors close at 3:00 pm.
Resources for getting started.
Click HERE for "Old Dungeon Master's" awesome character sheets.  Fill them in digitally and they do a lot of the math for you.  (Otherwise, always use pencil.)
Interested in playing a Ranger?  Use D&D's Unearthed Arcana version so your Favored Enemy feature isn't useless.
Are you in need of dice or other supplies?  Make a visit to Critical Gaming in Fredonia!
We'll be borrowing races and other ideas from the Mythic Odysseys of Theros sourcebook.