Folk & Family Video Series
The "Gift that Keeps on Giving" Book Donation Program, lets you select a book for your kids, parents, grandparents, friends, loved ones, business, organization, or special cause. Highly meaningful and personal gifts, the books you choose do double-duty to benefit our community. Books will be displayed in the new CREATE Project Library Room, a destination for families and community groups to gather, share, play games, do art, read, listen to stories, and enjoy music, The CREATE Project Library Room will highlight our community's cultures and prioritize enrichment and care for our children and families.
Contribute to the project with PayPal.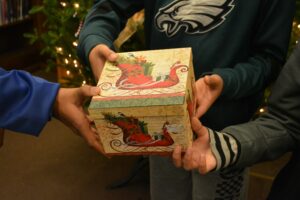 A nameplate bearing the gift recipient and givers' names and an inscription will placed in every new book contributed.  Shaped by everyone in our community – kids and adults alike, you can find your special book on the shelf in the CREATE Project Library Room when you come to visit, read, and play.  By having your book on the shelf, you are making the place your own.
Donors may choose a gift book by visiting the library website at www.dunkirklibrary.org and using the "Community Links" dropdown menu to choose the "CREATE Project Arts and Community Initiative".  Patrons have the option of directly purchasing a specific title from the monthly wish list, or making a general donation for a book via PayPal.
Beginning in 2020, the CREATE Project Library Room will feature special presentations, demonstrations, and performances.  Jason Hammond, the Library Director, invites all to this innovative enterprise. The program will bring cross-cultural understanding through focusing on child-rearing best practices in a different culture each 3rd Thursday of the month from 5:30 to 7pm. The CREATE Project programs for children and their parents will include activities and discussions led by a representative of a different highlighted culture each month.  Refreshments popular in the culture of the evening will give participants a flavor of the country too. Watch in January for more program details on the library's website.
January:
Puerto Rican Heritage
February:
African American Heritage
April:
Southeast Asian Heritage
May:
Greek & Italian Heritage
June:
Western European Heritage
July:
American & Canadian Heritage
August:
Near & Middle Eastern Heritage
September:
Central Asian Heritage
October:
Mexico, Central, & South American Heritage
November:
Native American Heritage
December:
Polish, Slavic, & Scandinavian Heritage
The CREATE Project is an arts-based community intervention, designed to help our community become free of child-trauma, abuse, and neglect, and to become a place where our children can grow to their highest potential. The Northern Chautauqua Community Foundation is the CREATE Project's fiscal sponsor, and the Boys & Girls Club of Northern Chautauqua County is the lead community partner. Though working cooperatively together, the CREATE Project is a separate entity and operates as such. For more information call (716) 680-0266.