Reflecting upon the past fiscal year.
The Summer of 2020 denoted a dramatic shift in library operations.  Following the three-month closure, and then the implementation of "parking lot delivery," the doors were finally once again opened to the public after the July 4th weekend.  On-site activities were limited, computer lab seats were spread out, and everybody had his or her face covering.  Nevertheless, we were glad to see patrons in person once again, even if the traffic was fairly light.  For those who were not yet ready to come visit, the curbside service remained available (and does so today, call the main desk for details).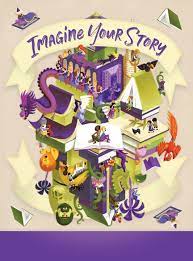 The Summer Reading theme "Imagine Your Story" had already kicked off in June, but most of our activities remained virtual or "take and make" throughout July and August.  Thanks to Community Block Grant funding we were able to continue to send snacks home with area kids, along with weekly crafts and activities.
Our Adult Book Club continued to read a great selection of titles, but conducted their discussions virtually via a GoodReads group, a practice that would continue until the following July.  
The Fall finally brought our long-postponed Board of Trustees election, along with unusual academic schedules that definitely impacted our number of after school student visitors.  We maintained contact with our friends in the High School Creative Writing Club by collaborating on the CCLS Big Read initiative.  This year's title was Kelly Link's Pretty Monsters, a collection of spooky short stories that was perfect for the Autumn season.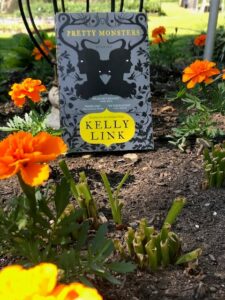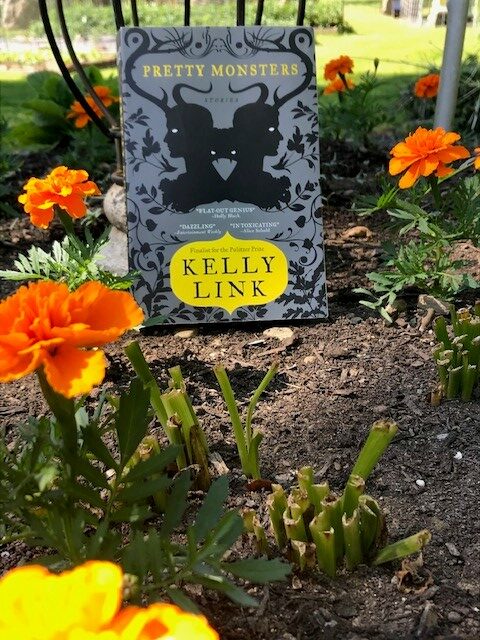 Our celebration of the American Library Association's International Games Week had to be mostly virtual this year, which we did via Board Game Arena.  In addition, our huge Pokémon giveaway was quite successful in getting cards, figures, and a big stuffed Pikachu in the hands of numerous kids.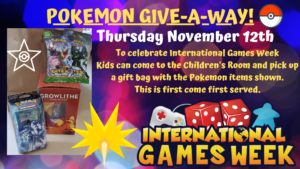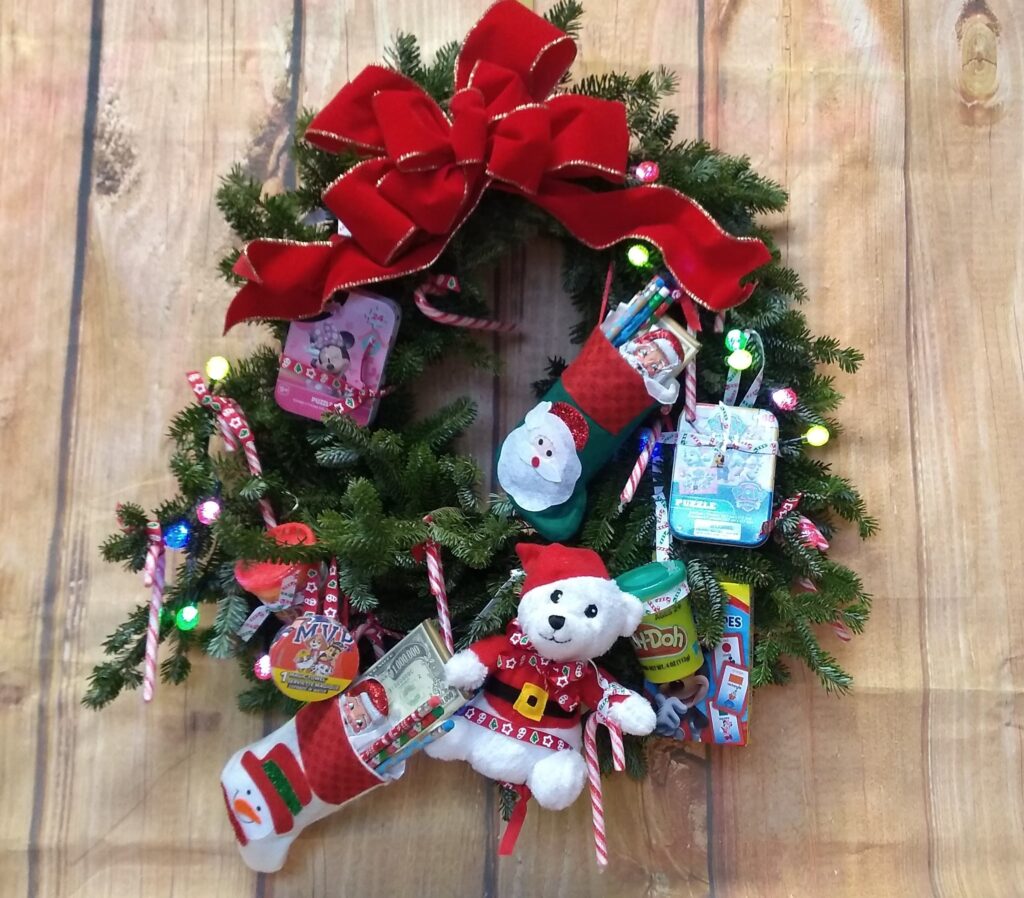 Our Winter initiatives included participation in the United Way wreath decorating contest.  It was also during this season that installation of our new front doors began.  Like so many other things this year, the project was quite delayed from its intended start date due to production and shipping issues caused by the pandemic.  January and February are definitely not the months to have just a few pieces of plywood between the library interior and the outdoor weather while construction is taking place!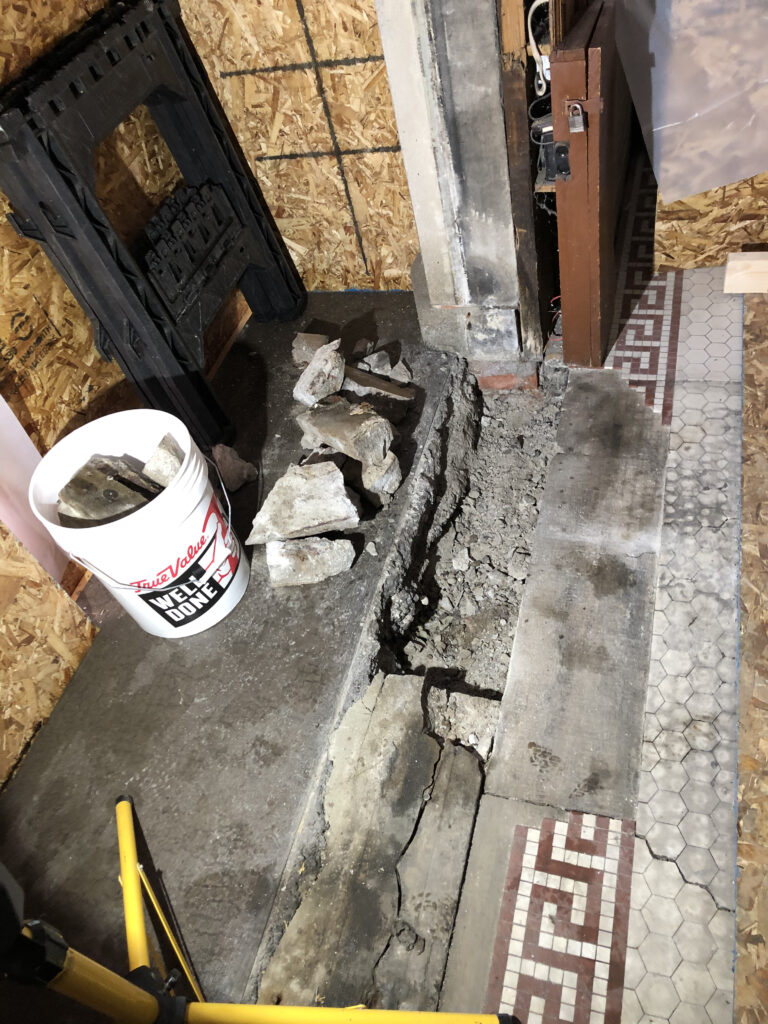 By the Spring, however, the front entrance was looking great.  At least until we found out there was a manufacturer recall on something used in the doors' creation, and then it was back to a couple more weeks of plywood as the contractors remediated the issue.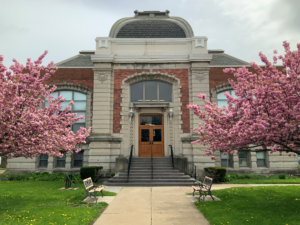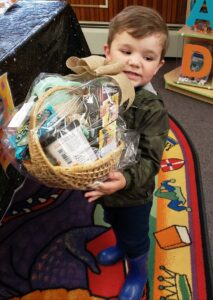 For those patrons who were willing to brave what appeared to be a nonstop construction site, a number of technology improvements awaited.  In March our computing center began providing public access to Tech-Talk, an excellent resource for troubleshooting tech issues and building up software skills.
April and May saw improvements to our building safety infrastructure as additional security camera feeds were installed.  It was also around this time that we began remediation of the damaged cornice above the entryway, although the complete repair would remain many months in the future.
In celebration of Star Wars Day, we also raffled off a May the 4th prize pack to a very happy winner.
Finally, as we approached the end of another fiscal year, and the beginning of the hot and humid months to come, it was time for Summer Reading once again.  "Tails and Tales" was the upcoming theme, and our Mystery Animal Egg Hunt proved to be a popular activity all Summer long.  Library attendance was definitely up in comparison to a year ago, and this time visitors were able to enjoy the benefits of yet another construction endeavor: the long-awaited installation of air conditioning!